The Wenhaston Good Village Guide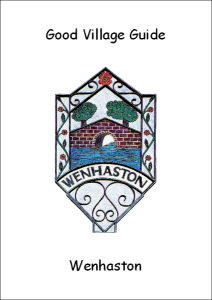 Wenhaston's Good Village Guide comprises constantly-updated information about this east Suffolk village of 800+ people.
Click the link to discover the Guide's origins, a little Wenhaston history, recycling, education, religion, medical services, info about village groups and organisations and who to contact if you wish to know more. .
The Wenhaston Good Village Guide was originally devised in the 1980s by Wenhaston Community Council (1971 - 2006) as a free informative booklet given to new residents to help them settle in to the Village. In 2000, to mark the occasion of the Millennium, a souvenir edition was freely distributed to every household in the village.
Some years before the closure of Wenhaston Community Council (2006) the printing of the Guide was awarded to Blythweb Ltd. Blythweb is a Wenhaston-based business employing village people. Blythweb was also pleased to receive permission to feature an online version of the Guide on this their Wenhaston website. At the closure of Wenhaston Community Council in 2006, Blythweb, with the agreement of the outgoing Wenhaston Community Council Committee, undertook to continue featuring the Wenhaston Good Village Guide and to keep it updated.
The latest version can be found here