Wenhaston Millennium Sundial

The working sundial on public view high on the end wall overlooking the car park at Wenhaston Village Hall was placed there by Wenhaston Community Council (1971-2006) who commissioned and funded the sundial as one of its millennium projects. Between the windows on this wall are two associated smaller plaques, one showing the Equation of Time correction and the other with the wording, 'This sundial commemorates the millennium and the 25th anniversary of the Village Hall on the 4th October 2000 Presented by Wenhaston Community Council'
Unlike Wenhaston Village Hall there cannot be many village halls which can boast a working sundial. Wenhaston Community Council committee intended that the sundial would enhance this important community asset as well as being an item of interest in its own right. At the opening of this large hall in 1975 its design and build was a triumph of community effort and involvement, all handled and co-ordinated by Wenhaston Community Council.
There is a long tradition in the UK of sundials on public buildings and what better way of marking the new millennium than this lasting memorial. From the outset it was intended that the sundial would be truly functional, and also be designed so that future maintenance would be minimal. There is therefore no wood to rot and no paint to flake.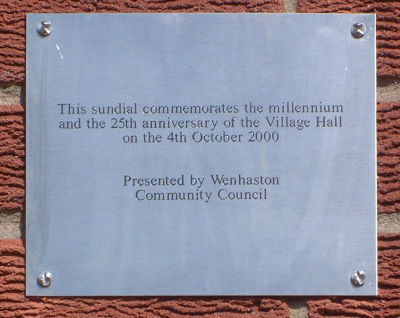 The sundial measures three feet (90cm) by two feet (60cm) and is fashioned from non-reflective stainless steel. It bears the simple millennium reference '2000AD' in black together with Roman numerals which mark the hours. There are long plain hour lines to receive the shadow of the gnomon, with embellishments on the shorter lines which mark the half hour. The design was the outcome of careful consideration and discussion between the committee members of Wenhaston Community Council and the advice and expertise of the diallist engaged to bring the project to fruition.
The craftsman who designed and made the sundial was Ray Ashley, a London-based member of the British Sundial Society. During Ray's site visits he carefully noted the westerly alignment of the village hall and made the necessary technical adjustments so that the sundial reads true, even though in general only the afternoon hours can be read due to the site location.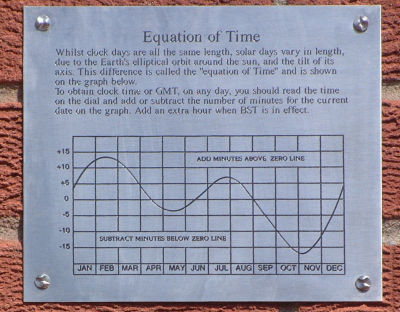 The Equation of Time
Whilst clock days are all the same length, solar days vary in length, due to the Earth's elliptical orbit around the sun, and the tilt of its axis. This difference is call the "equation of Time" and is shown on the graph on the plaque pictured above (click for larger version).
To obtain clock time or GMT, on any day, you should read the time on the dial and add or subtract the number of minutes for the date on the graph. Add an extra hour when BST is in effect.